In this concluding segment of our four-part interview series, we delve into the world of Yamaha Electone with Mathew Siew Zeng Wai, the winner of the Senior Section in this year's Yamaha Electone Festival (YEF), and his dedicated mentor, Ms. Yeo Hong Lian. Their insights provide a glimpse into the dedication, passion, and hard work that go into becoming a skilled Electone player.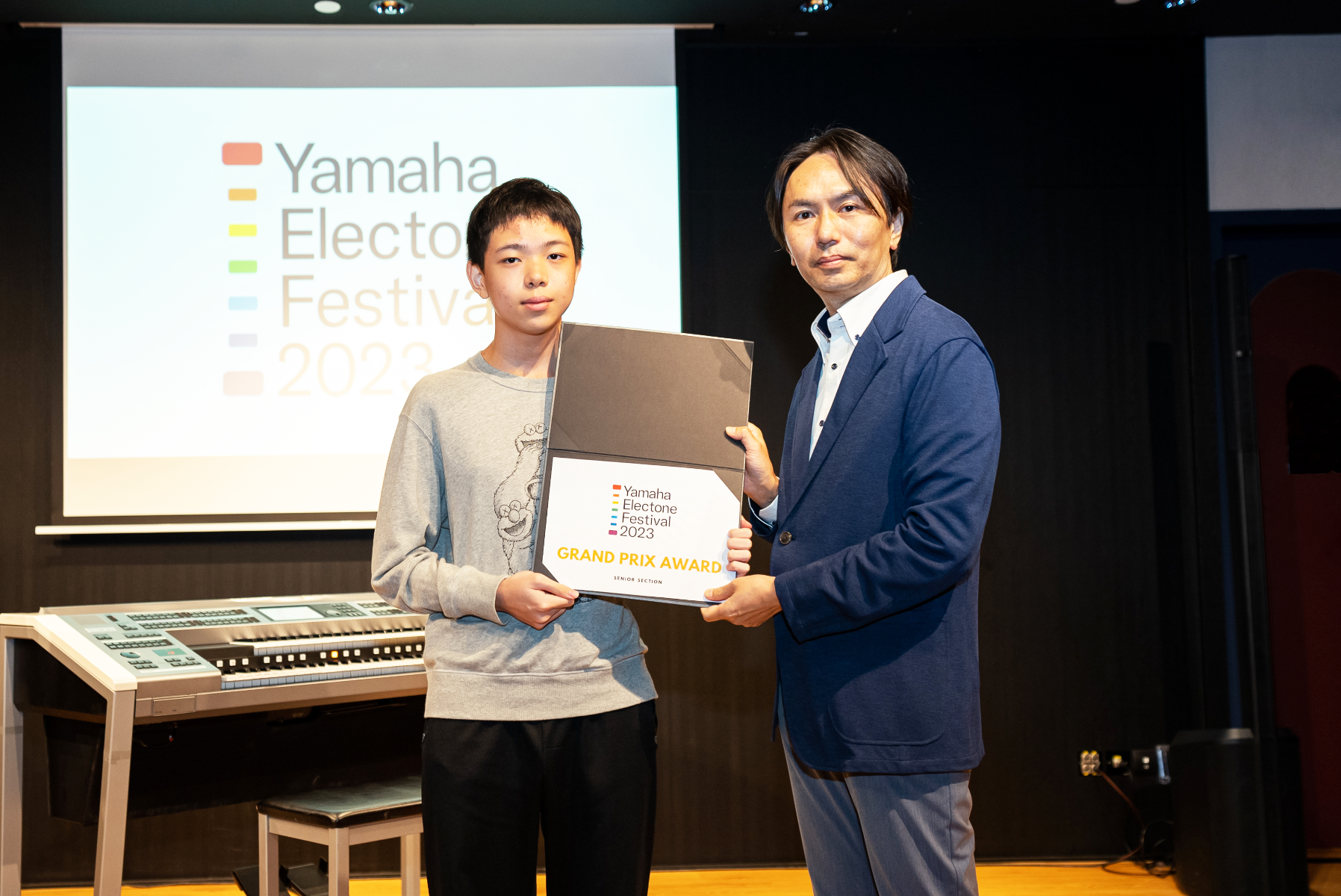 Mathew Siew (left) receiving his certificate of award from Yamaha Music (Asia) Private Limited's Managing Director, Yoshinori Sasaki (right)
Mathew's Electone Odyssey: A Journey of Sound and Mastery
The art of playing the Electone is a journey that requires dedication and perseverance. Mathew's journey began over a decade ago, driven by a serendipitous encounter with a music keyboard. As he honed his skills, Mathew discovered the mesmerizing world of combining various musical instruments' sounds to create a symphonic experience reminiscent of a live band.
"When the sound of different musical instruments blend together, they create amazing effects, just like a 'live' band," Mathew shared. His passion for exploring the vast realm of Electone music scores and genres, from contemporary to traditional and classical pieces, has been a driving force in his journey.
Reflecting on his choice of instrument, Mathew expressed his fascination with the Electone's versatility. "The numerous sounds, effects, background rhythms, alternate instruments, and tones the Electone is capable of producing excite me and make me want to explore this amazing instrument more and more," he enthused.
Mastering the Electone isn't without its challenges, but Mathew has embraced them. "The coordination skills I gained from practicing on the Electone are immense. I literally need to learn how to use every part of my body when it comes to playing a song. Both hands, both legs, including my body and head!" he laughed.
Mathew's current instrument of choice is the ELS-02C, a model that has opened up new avenues for his creativity. He advised aspiring Electone players, "There is no shortcut to learning how to play a musical instrument. Practice and hard work are key to success. Do not be afraid to ask questions or make mistakes. Always believe in yourself and enjoy the music learning process."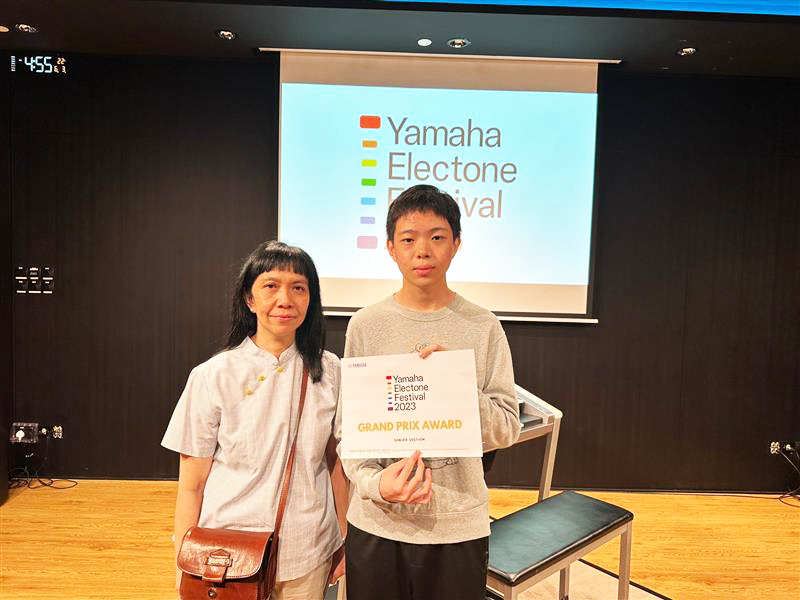 Mathew Siew with his Electone Teacher, Ms. Yeo Hong Lian.
Guiding Light: Ms. Yeo's Mentorship
Ms. Yeo Hong Lian, Mathew's mentor, has been an instrumental figure in his growth as an Electone player. Over the span of four years, Ms. Yeo has witnessed Mathew's progress and commitment to his craft.
"Mathew's dedication and passion for Electone are truly inspiring. He not only plays with skill but also invests time and hard work into honing his playing abilities," Ms. Yeo shared. Her approach focuses on building a strong foundation, allowing learners to develop essential skills that form the bedrock of creativity and advanced techniques.
When Mathew emerged victorious in the Senior Section of YEF, Ms. Yeo's joy was profound. "I am delighted that he has managed to come out on top. I have always told him to treat it as an exposure, and I believe that as long as he puts in effort, he will ultimately see results," she affirmed.
Highlighting the significance of the right instrument for practice, Ms. Yeo emphasized, "For learners, it is of utmost importance that they have the right instrument for practice, and that they enjoy playing on that instrument."
As the interview series drew to a close, Ms. Yeo shared her advice for aspiring Electone learners: "Work on building a strong foundation. With a solid base, learners will have the necessary skills to develop their creativity and enhance their playing skills."
A Note of Inspiration
With Mathew's electrifying journey and Ms. Yeo's invaluable guidance, the Yamaha Electone Festival 2023 interview series comes to an end. The insights shared by these dedicated individuals serve as an inspiration to all aspiring Electone players.
Whether you're embarking on your own Electone journey or contemplating picking up this captivating instrument, remember Mathew's enduring dedication and Ms. Yeo's insightful mentorship. The world of Electone is an enchanting realm waiting to be explored, and with passion, practice, and the right guidance, you too can create breathtaking music that resonates with the heart and soul.
As the final note of this series, we extend our heartfelt gratitude to Mathew and Ms. Yeo for sharing their experiences and wisdom. May their journey inspire you to embark on your own path of musical excellence.