Junior Electone Course (For 6- to 8-year-olds)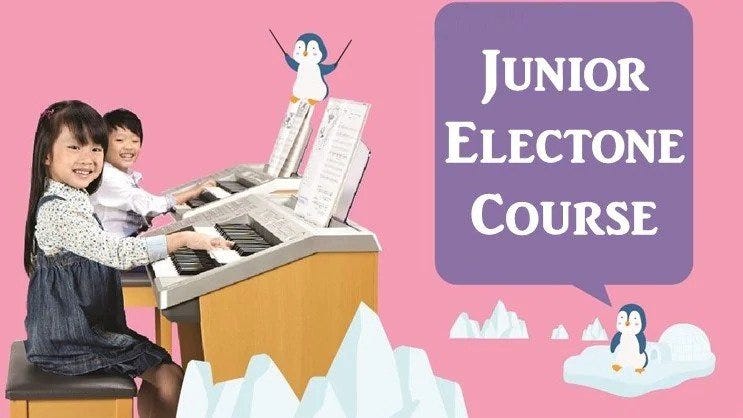 Learn to play the Electone in a fun and relaxed way!
Discover the power and the beauty of the Electone - a unique instrument with a wide array of instrumentation. Your child can experiment with making solo sounds, big orchestra sounds and anything in between to play any genre of music!
Guided by our qualified music teachers, your child will also have opportunities to perform at concerts and participate competitively at the annual Yamaha Electone Festival.
Using the basic learning process - Listening > Singing > Playing, we'll introduce your child to handy techniques to use during performances as well as the fundamentals of expression and music appreciation.
A Strong Foundation
As a student in the Junior Electone Course, your child will be learning from our exclusive curriculum, developed by the Yamaha Music Foundation, Japan. Our proven syllabus will facilitate learning of essential music elements.
Performance Opportunities
To showcase the skills achieved, we encourage our students to participate in concerts and competitions that we organise. Through such activities, they become more self-confident and willing to share their love of music with family, friends and the public.
The Right Preparation
With the training and guidance our instructors provide, your child may want to attempt as examination, and our instructors will make sure that they go into the examination confident and, most importantly, prepared.
Course Content
Repertoire
Ensemble
Arrangement
Improvisation
Singing ( lyrics & solfege )
Knowledge of various instruments
Knowledge of tones and registration
Music knowledge and appreciation
| | |
| --- | --- |
| AGE GROUP: | 10-Year-Olds or Older |
| COURSE DURATION: | 2 years (Elementary), 2 years (Intermediate) |
| NUMBER OF LESSONS: | 11 Lessons Per Term |
| LESSON FORMAT: | Group Lesson of up to 10 Students |
| LESSONS DURATION: | 1 Hour |
| COURSE FEE & SCHEDULE: | Click Here |