Taledrops, a school-formed band, fuses music and storytelling in their original songs. In this interview, guitarist, Zee, shares their challenges, creative process, and upcoming gigs while offering advice to emerging musicians.
WHAT BROUGHT THE BAND MEMBERS TOGETHER TO FORM TALEDROPS?
I met Jingmin (bassist), Shan (keyboardist) and Kiara (drummer) in secondary school. At that time, we were in a music elective programme that required us to put up a school assembly performance and we decided to form a band. Since then, we've been jamming casually before Pearly (vocalist) joined us in 2019.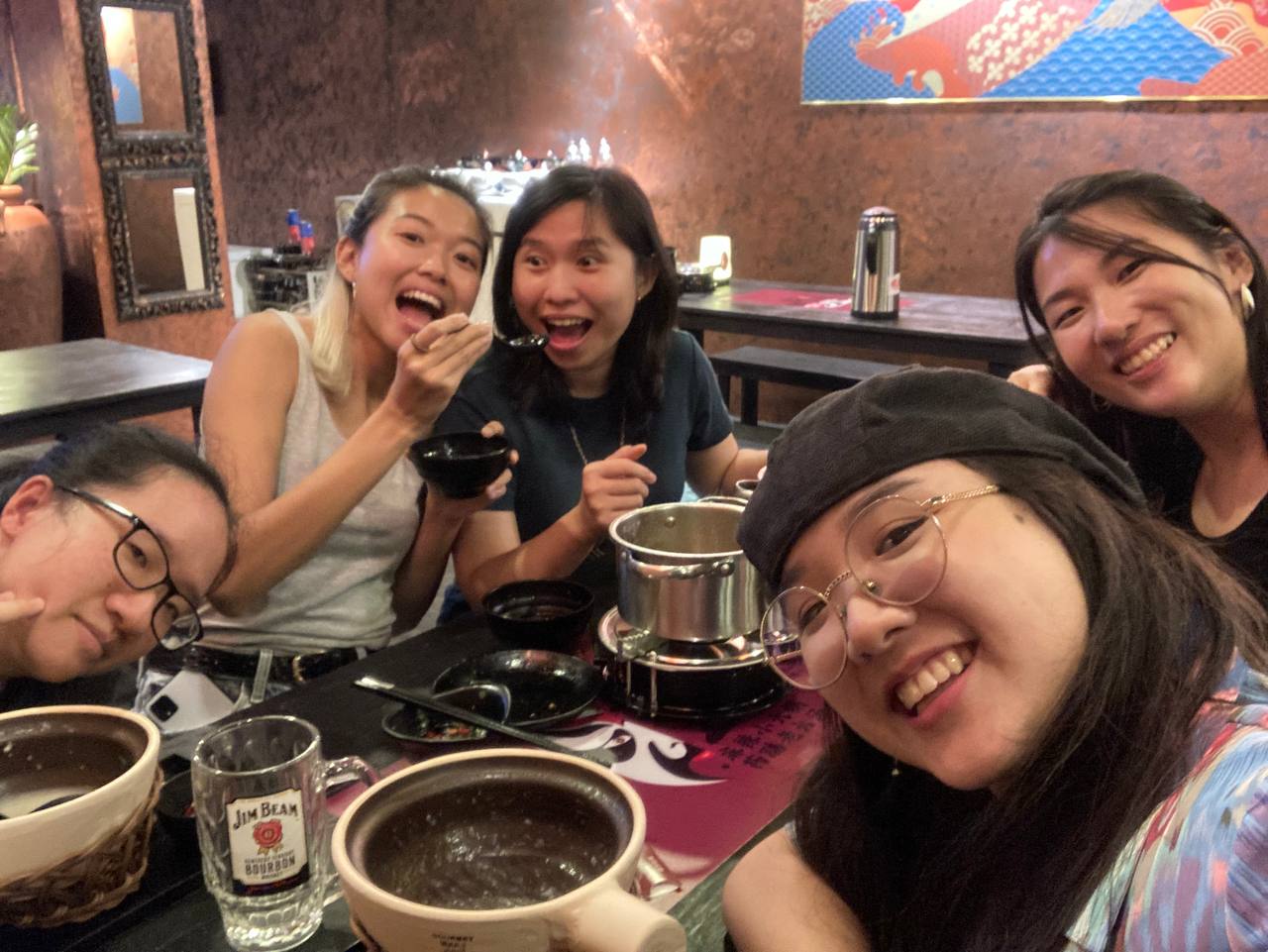 Enjoying hotpot together – Oct 2022
WHAT IS THE STORY BEHIND THE BAND NAME "TALEDROPS"?
The band name combines the words "tale" and "teardrops" as we aspire to express and storytell with music. The word "drops" also means remedy, representing our shared belief in the healing power of music.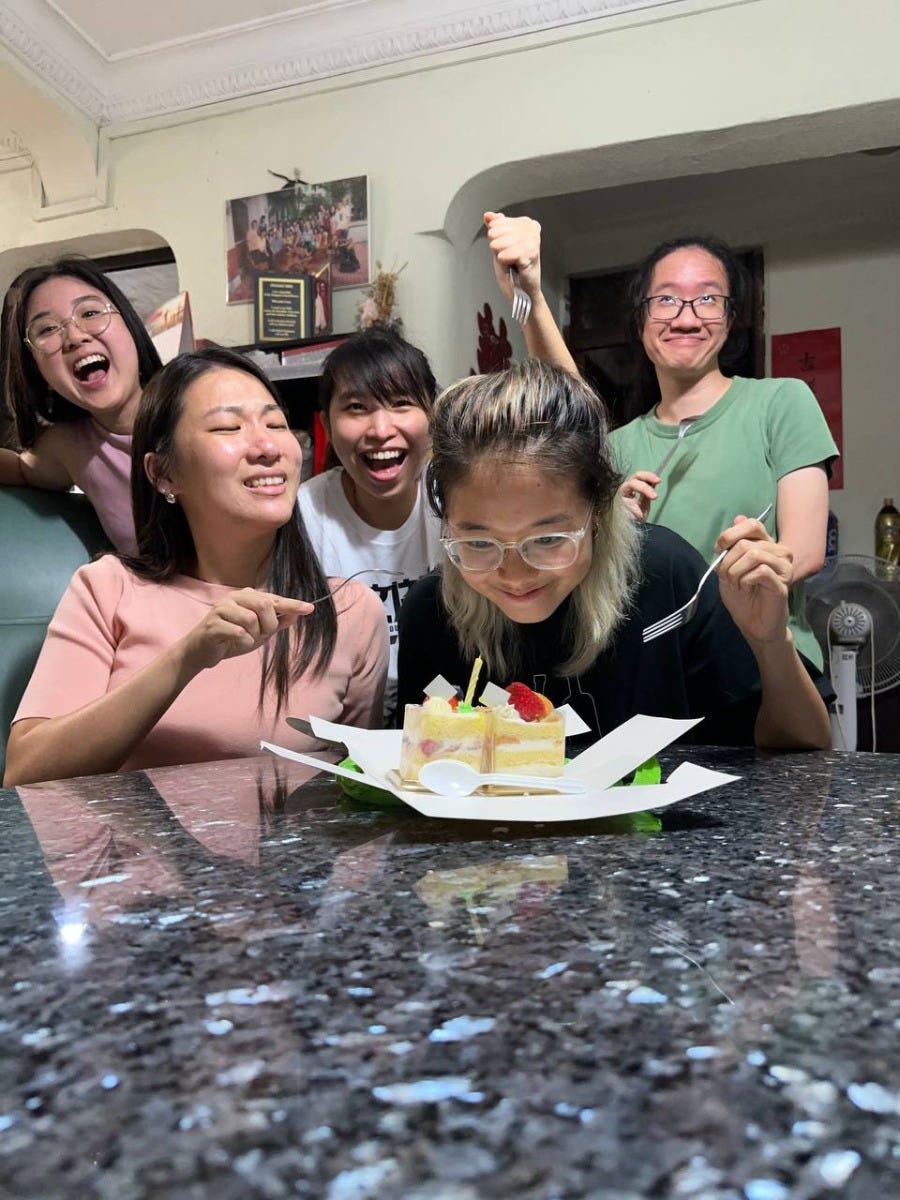 Birthday Celebration with Zee – Nov 2023
WE FORESEE A FEW CHALLENGES BEING IN A BAND WITH SUCH TALENTED MUSICIANS. COULD YOU SHARE THE ISSUES YOU MAY HAVE FACED AND HOW YOU OVERCAME THESE CHALLENGES? 
Commitment is something we struggled with as everyone has so much going on in their lives. Eventually, we sat down together to align our aspirations for the band and we've all committed to prioritizing the band since.
We may have been friends for a long time but all five of us are extremely different. Be it personality, working style or preferences (music, aesthetics and even food haha). We identify individuals with strengths in different areas and put them in charge of driving those areas.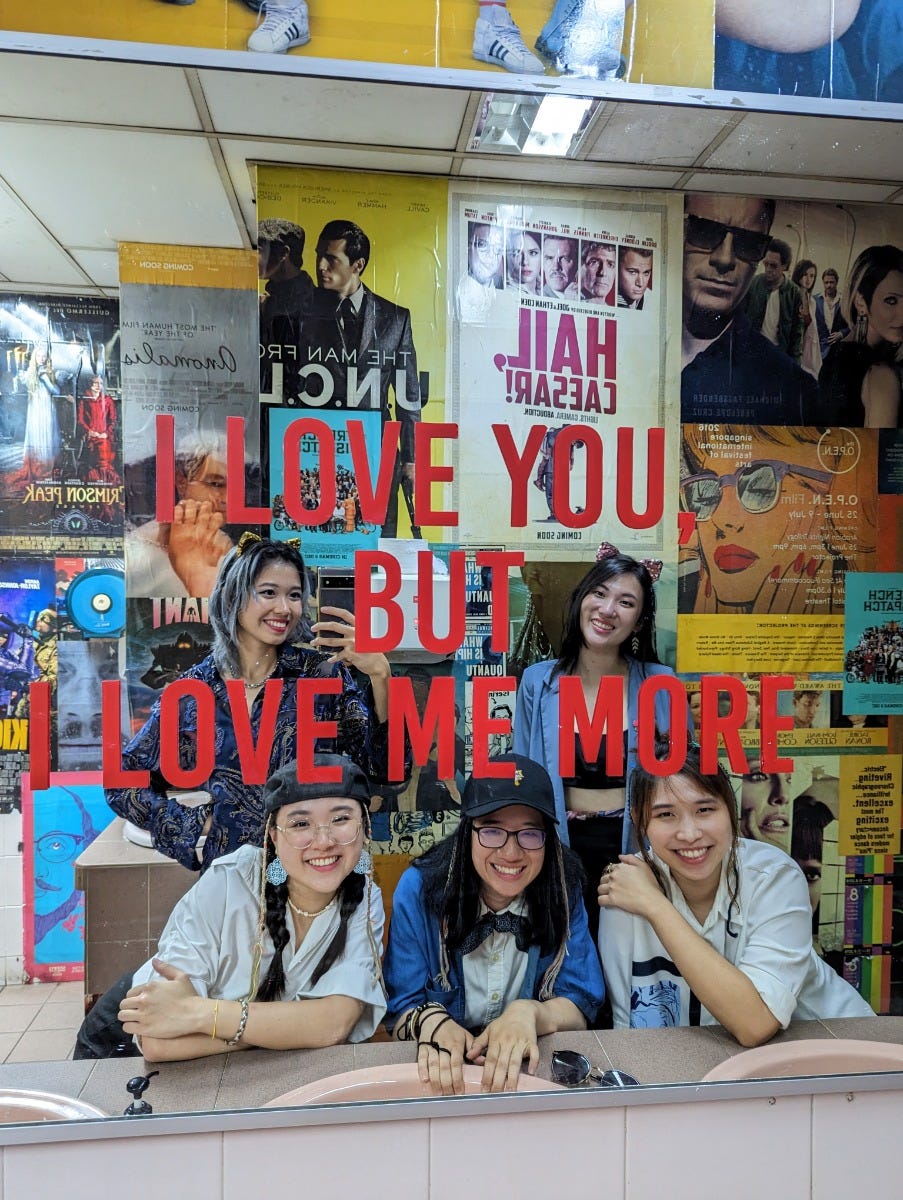 Hanging out at The Projector, Golden Mile Tower – Apr 2023
HOW OFTEN DO YOU COME TOGETHER FOR REHEARSALS OR PRACTICE SESSIONS, AND ARE THERE ANY SPECIFIC PREPARATIONS LEADING UP TO THESE SESSIONS?
Closer to a gig, we meet about 3 times a week to rehearse, while ensuring individuals take the time outside of rehearsals to work on their own parts. The songs would've already been written before we rehearse as a band, and everyone is expected to be well-practised beforehand.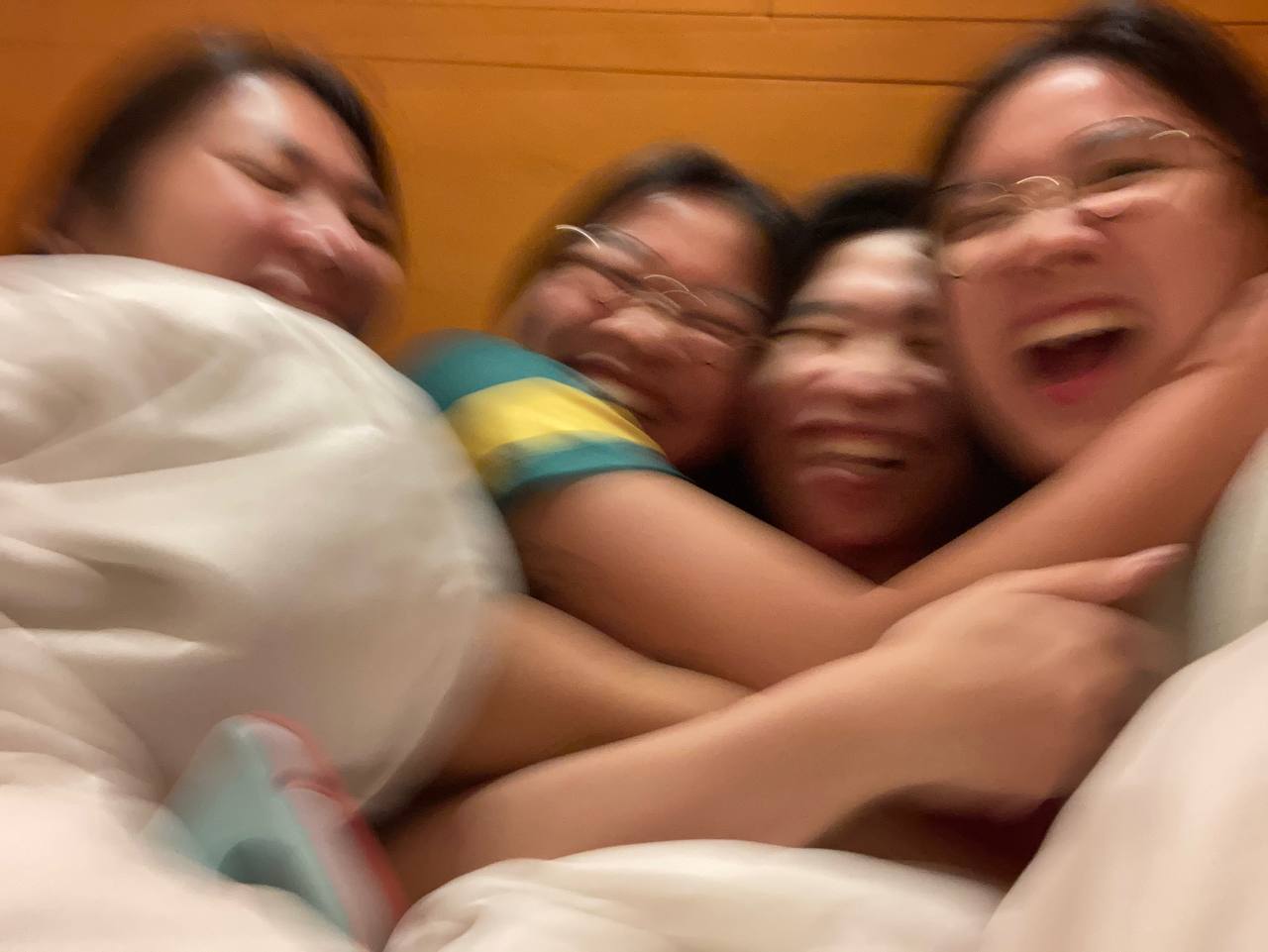 Sleeping over at each other's – Jun 2020
SINCE THE BAND HAS SEVERAL ORIGINALS, COULD YOU DESCRIBE THE INTRICATE PROCESS, LEADING UP TO THE SONG?
We took the first few songs to experiment with different processes. Some I wrote the music first then handed it to the lyricist (singer or drummer), some the other way - lyrics first then music. After a few iterations, I realised that the latter works better because forming melodies from the natural rhythm of words is very intuitive to me. I also enjoy the creative process of gaining musical inspiration from the story and imagery behind words.
With the lyrics, I come up with the melody, chord progression, guitar, keyboard (piano, strings, brasses etc.) bass parts and sometimes a skeletal groove if an idea comes to mind. I then put together a song demo on a DAW and share it with the rest of the band, who then fleshes out their instrumental parts before we work on further arrangement changes during practice. It usually takes us multiple sessions to finalize the arrangement as some parts may sound fine in the demo but don't work as well in practice.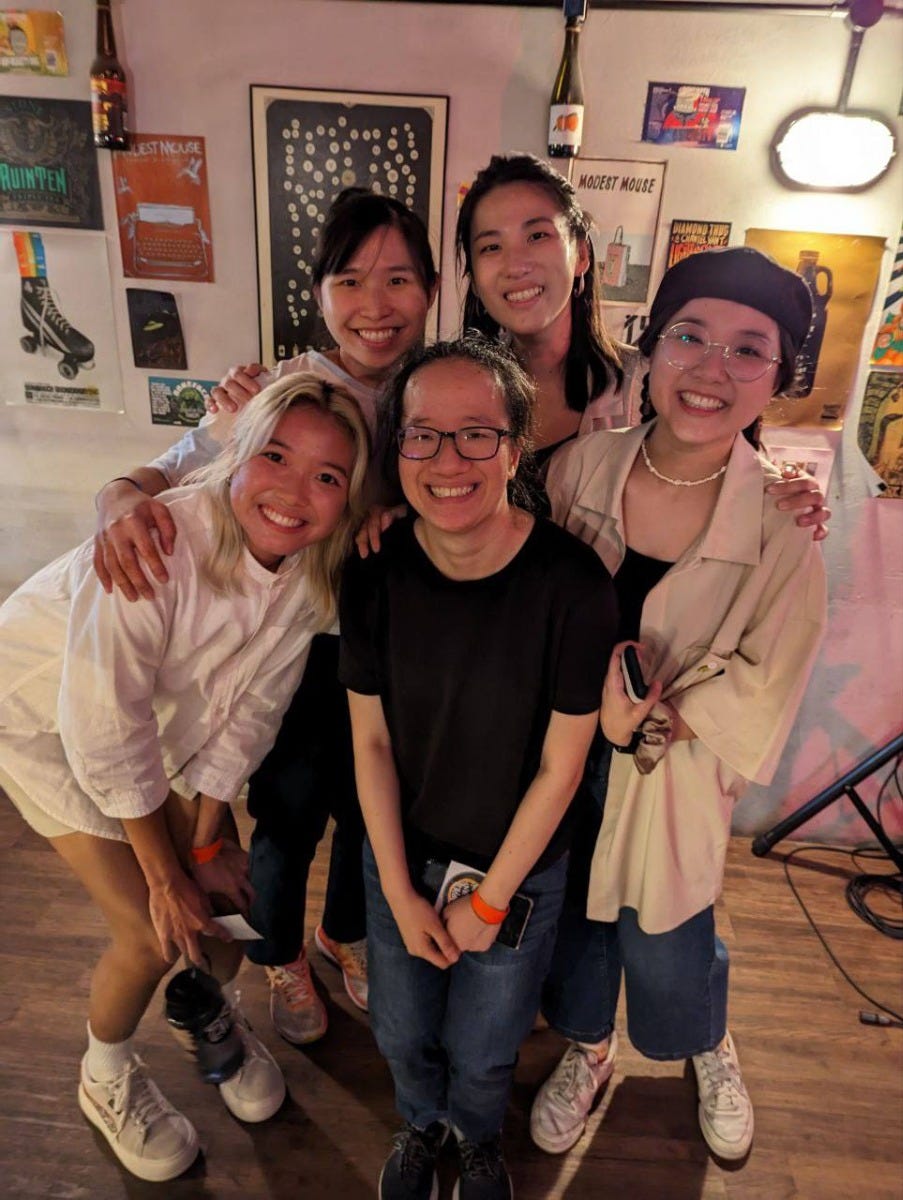 Hanging out at Sixteen Ounces Bar & Kitchen after an acoustic gig – Dec 2022
HOW MANY ORIGINAL SONGS HAS THE BAND CURRENTLY CREATED, AND COULD YOU PROVIDE A BRIEF OVERVIEW OF EACH TRACK?
We recently released our first single Kafka on all major streaming platforms. It's an upbeat song that's a little dancey and has a catchy melody and guitar riff.
Our next single Surrender is scheduled to be released later this year. Compared to Kafka, it's more emo and features soaring vocals and guitar lines.
We're in the midst of recording the other songs we played during Baybeats, which will be released early next year.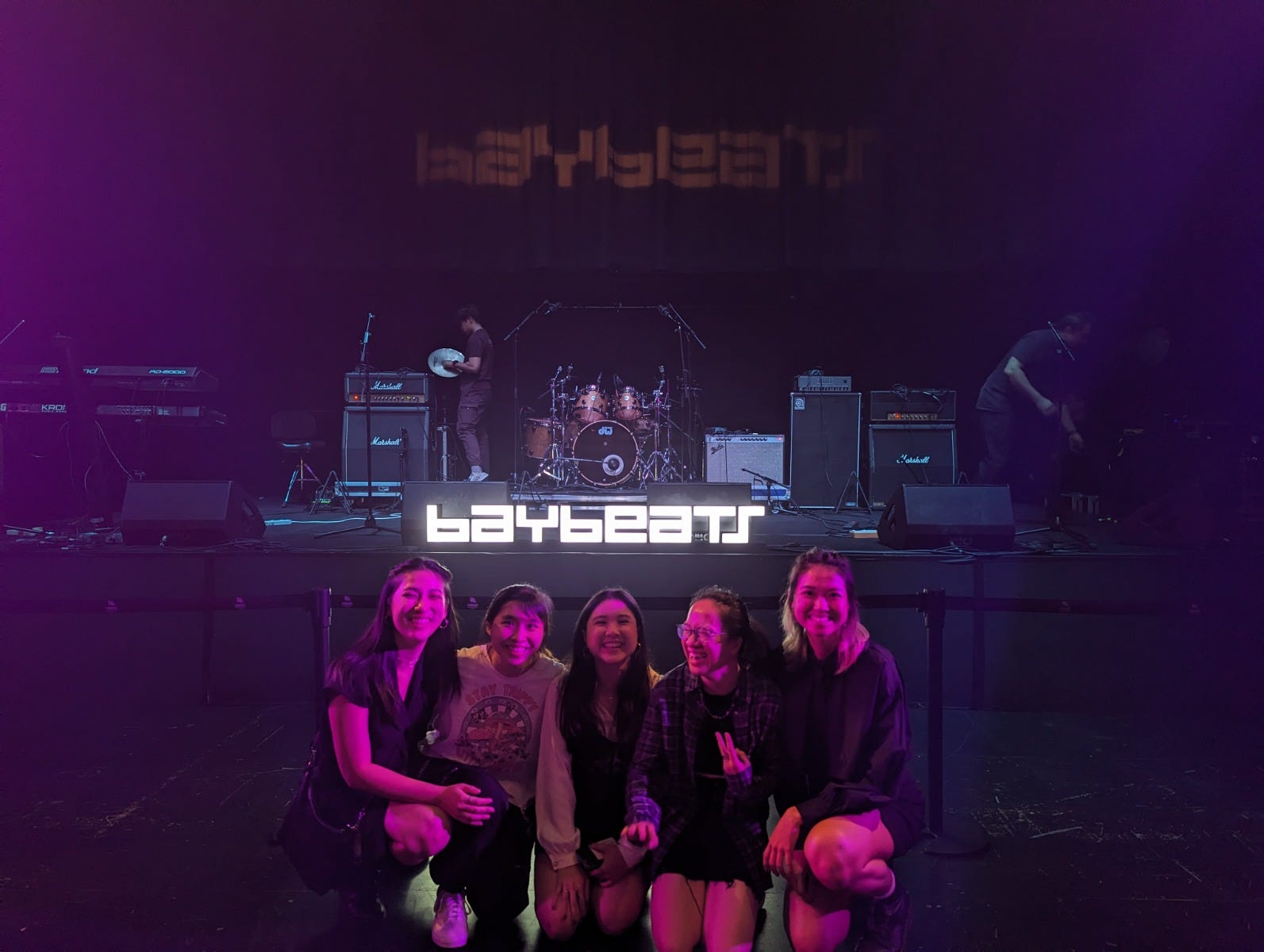 Baybeats Budding Bands Audition – Aug 2023
HAVING JUST PERFORMED A MAJOR GIG AT BAYBEATS, COULD YOU SHARE ANY MEMORABLE EXPERIENCES OR STORIES FROM THE EVENT? 
Being a part of Baybeats was a dream come true and more. Apart from having the cherished opportunity to present our music on stage, I particularly appreciate the process of learning from the mentors/judges, overcoming challenges with the band, and building our own small support network with the other budding bands.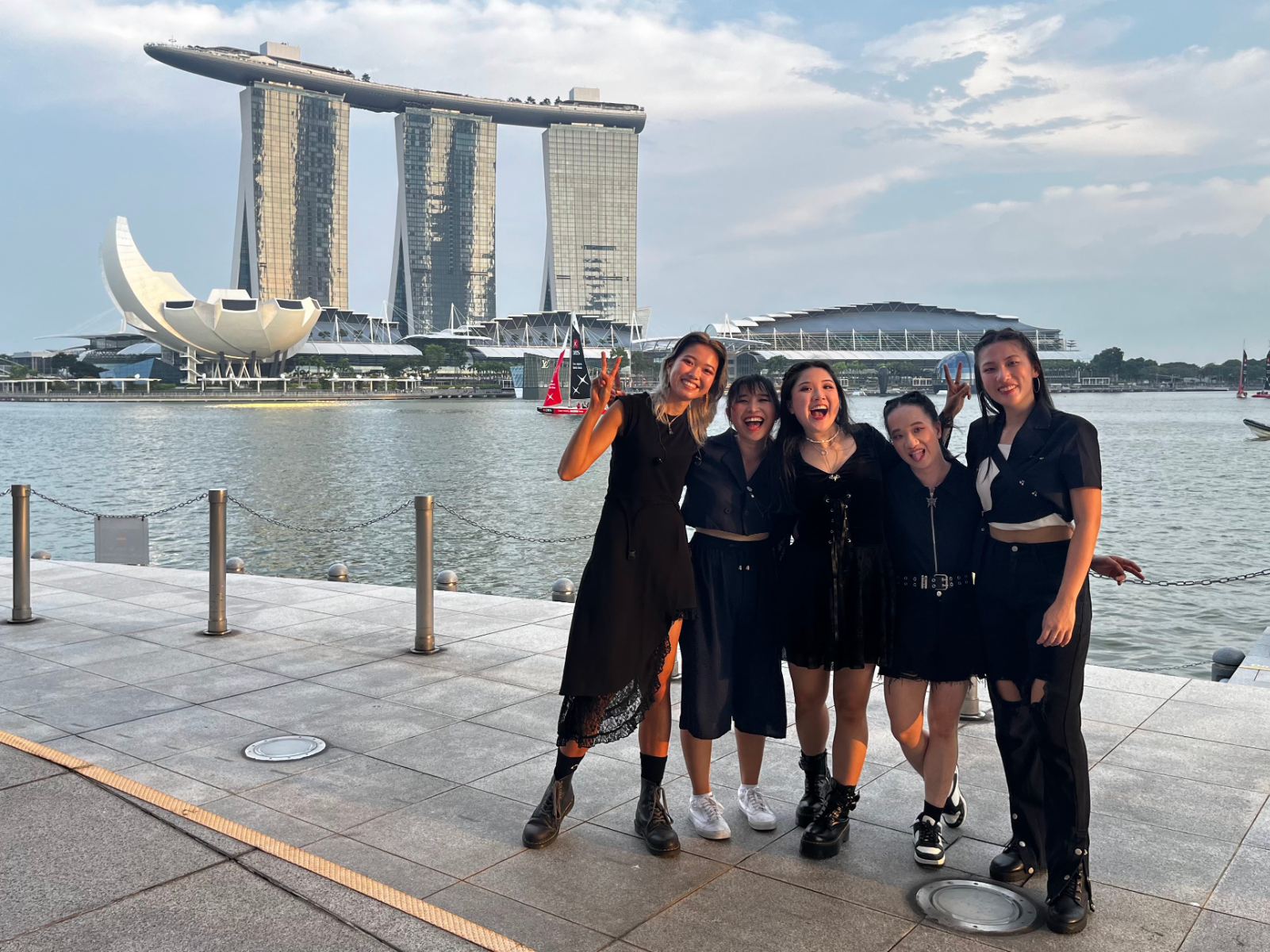 Backstage of Esplanade Outdoor Theatre after their Baybeats set – Oct 23
COULD YOU SHARE WHAT IS THE NEXT STEP FOR THE BAND?
We have an upcoming gig on the 26 Nov at Phil's Studio North Bridge Road, will be playing alongside other super cool bands. Link to gig: https://www.eventbrite.sg/e/feedbackd-vol1-tickets-750044763077?aff=oddtdtcreator
We'll also be opening for esteemed veterans Plain Sunset on 6 Jan 2024 at Esplanade Annexe Studio. Follow our Instagram for updates!
Apart from that, we'll continue to record and release songs while experimenting with the band's songwriting and arrangement. We're also constantly on the lookout for more gigs, both locally and in the future, internationally.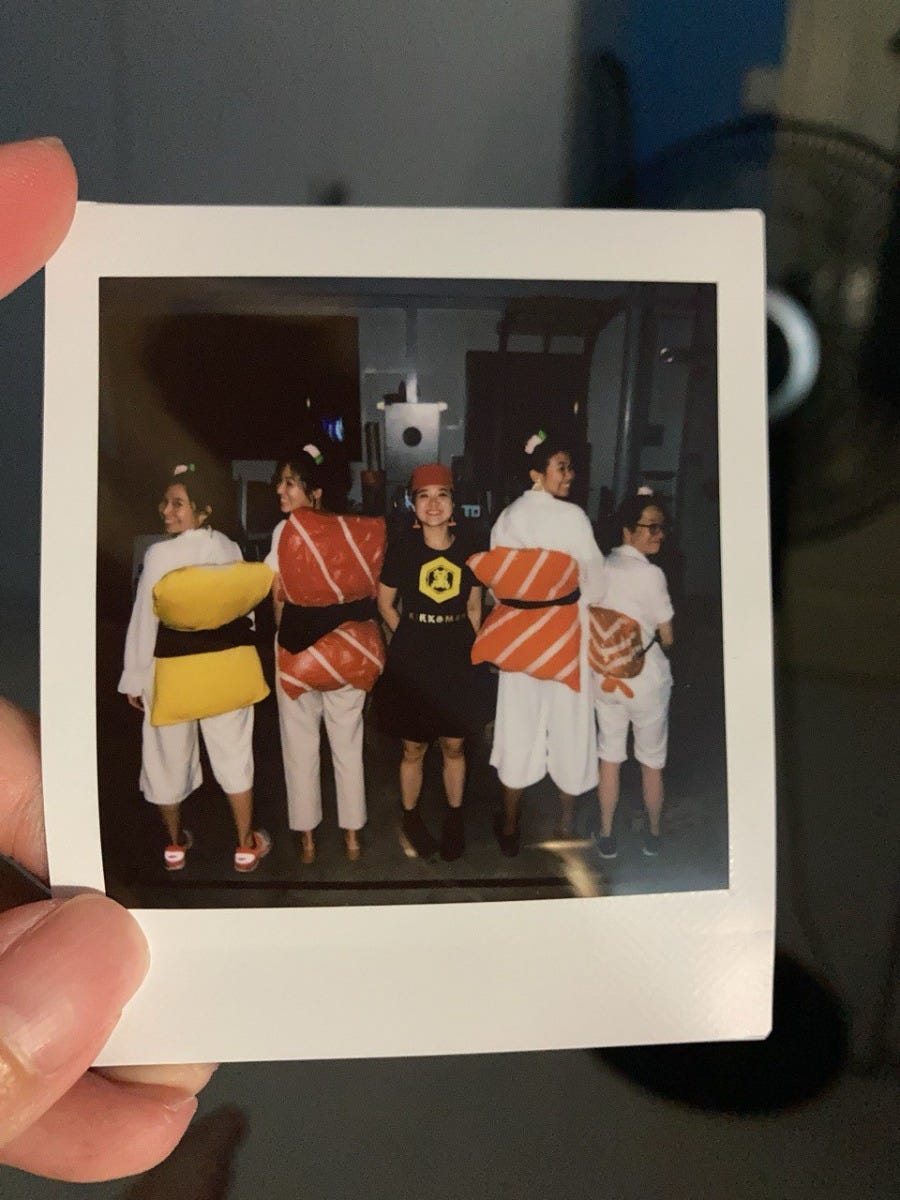 Dressing up as assorted sushi & Kikkoman soy sauce for a Halloween party – Oct 2022
ANY ADVICE FOR UP-AND-COMING AND RISING MUSICIANS THAT HAVE YET TO STEP IN THE SCENE? 
Honestly, we've barely taken our first step in the scene. There's just so much to learn and experience that this is really more of a reminder for myself than advice for others. I've learnt so much from people who've been kind enough to share their experience and music with me, and I constantly remind myself and the band that we have to work super hard while celebrating each other along the way! :)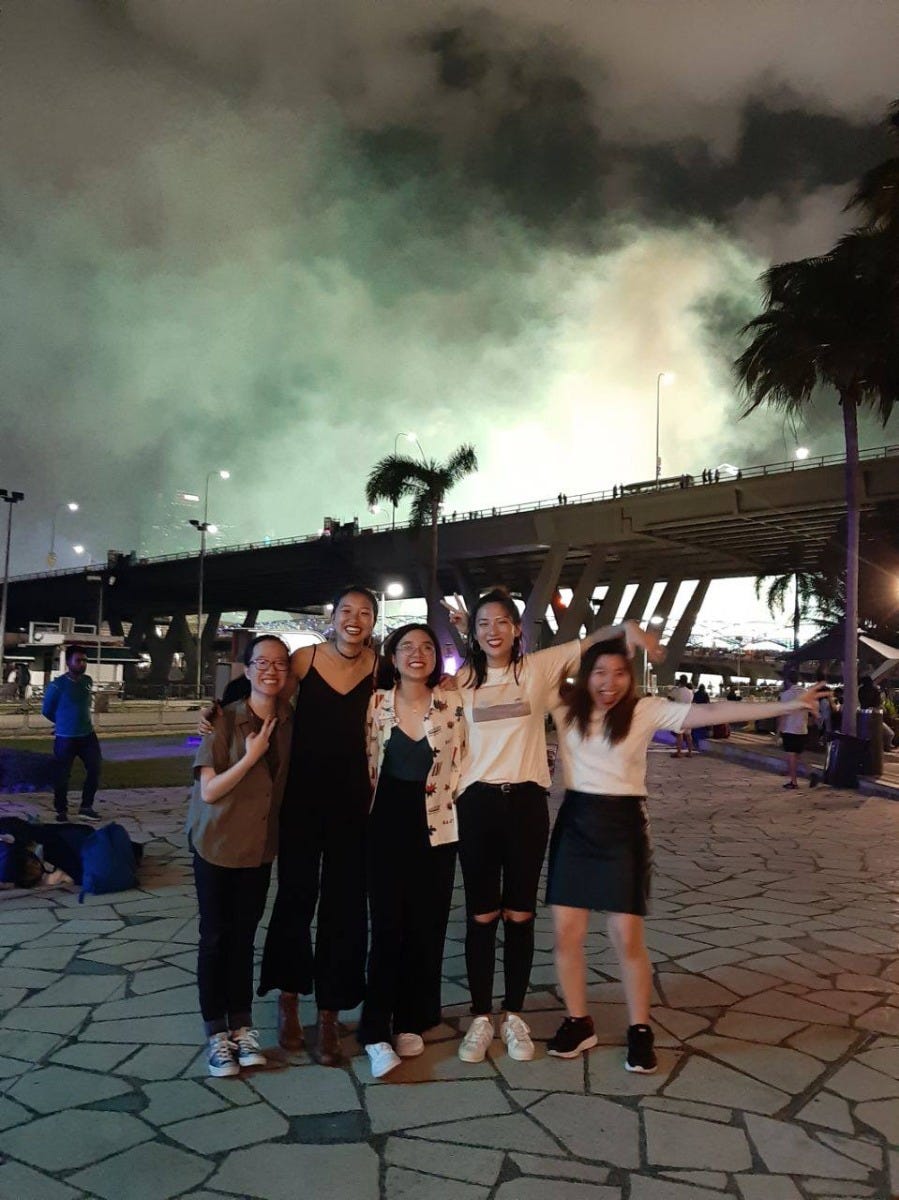 Taledrops after their first gig at a 2019 Countdown Party – Dec 2019
WHERE CAN WE GET THE LATEST UPDATES ON GIGS AND NEWS OF THE BAND? 
https://www.instagram.com/taledrops/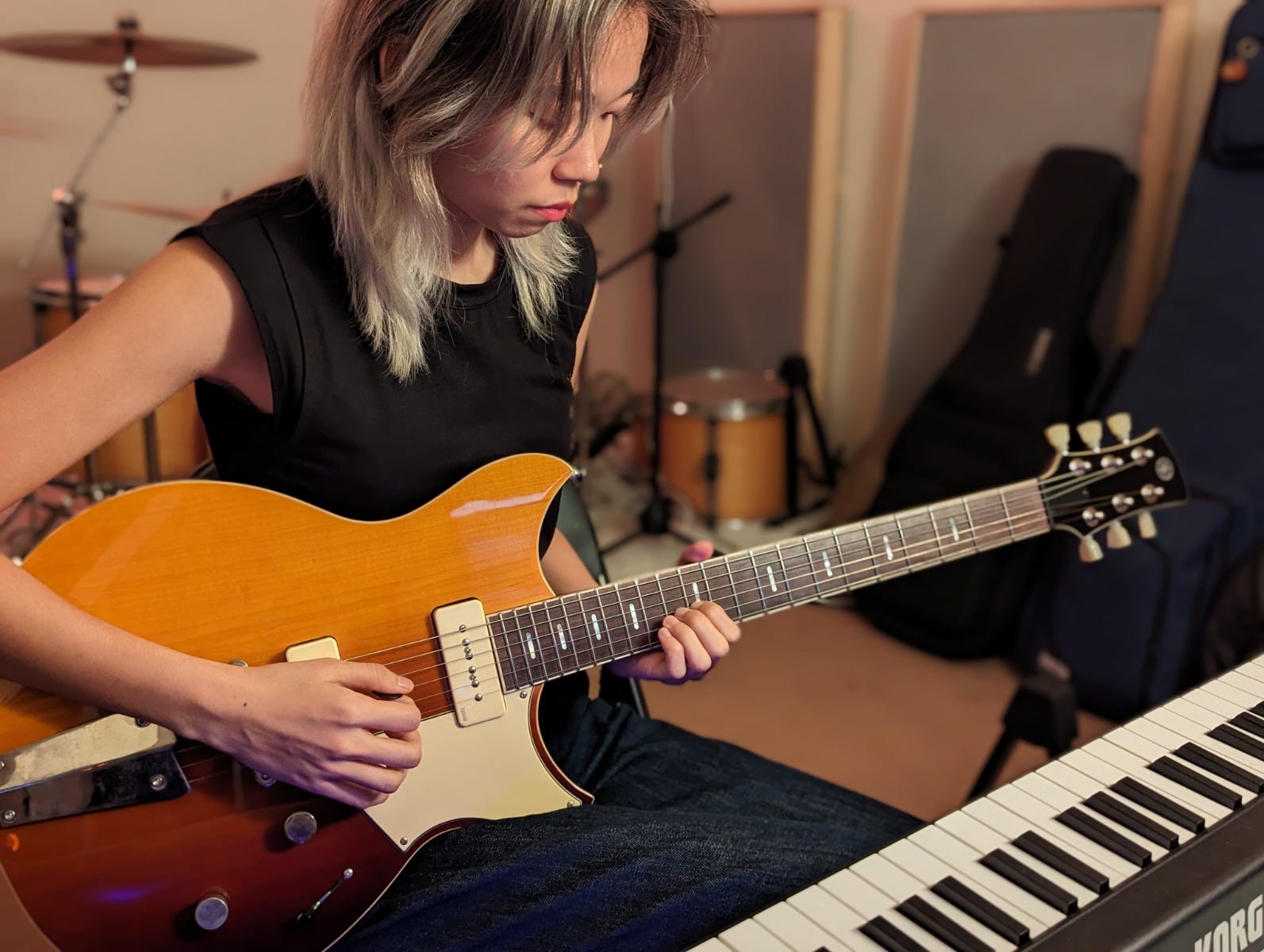 #Revstar #YamahaRevstar #RevstarGuitarYamaha
For more information on Revstar: https://sg.yamaha.com/en/products/musical_instruments/guitars_basses/el_guitars/rs_2022/index.html