Junior Drum Course (For 6 to 12-year-olds)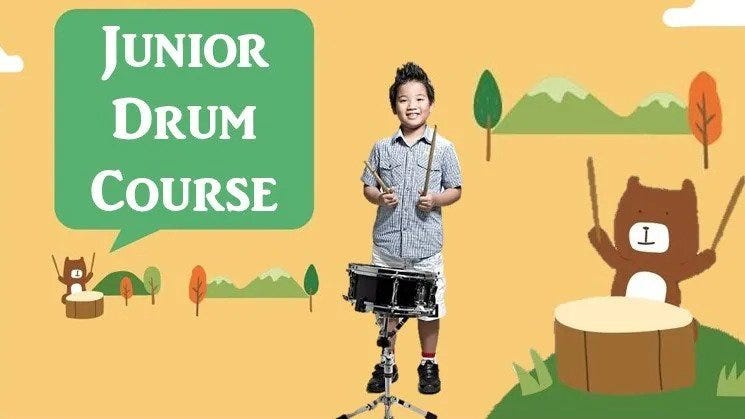 Some children are naturally interested in making percussive sounds to express themselves, giving you the cue to that they have an emerging musical passion.
If you are looking for a musical course that will provide your high-energy child with a fun and positive way to express their creativity, then look no further than the Junior Drum Course. Our course will provide your child with a great way to channel their creativity through the rhythmic power of the drums.
A Strong Foundation
As a student in the Junior Drum Course, your child will be taught systematically through a progressive syllabus developed by the Yamaha Music Foundation, Japan. Our proven syllabus will help your child learn how to drum with the proper techniques and read music scores the right way. As they progress through the course, they will learn new genres that will improve their musical diversity.
Performance Opportunities
To showcase the skills achieved, we encourage our students to participate in concerts and competitions. Through such activities, they become more self-confident and willing to share their love of music with family, friends and the public.
The Right Preparation
With the training and guidance our instructors provide, your child may want to attempt an examination. If so, our instructors will make sure they go into the examination confident and, most importantly, prepared.
Course Content
Proper techniques and posture in drumming
Reading of drum scores and understanding of musical terms
Progressive exercises for stick control, footwork and co-ordination
Various rhythm styles and variations
Ideas for drum fill-ins
Drum rudiments for stylised techniques and versatility
Wide repertoire and Pop, Rock, Latin to other contemporary styles using back-up tracks
| | |
| --- | --- |
| AGE GROUP: | 6 to 8-Year-Olds (Individual), 9 to 12-Year-Olds (Group) |
| COURSE DURATION: | 1 Year |
| NUMBER OF LESSONS: | 11 Lessons Per Term |
| LESSON FORMAT: | Individual or Group Lesson of up to 6 Children |
| LESSONS DURATION: | 30 Minutes (Individual), 45 Minutes (Group) |