Music Wonderland (For 3-year-olds)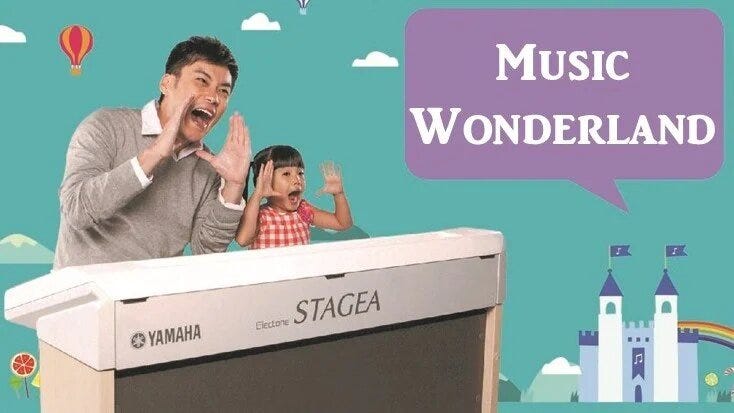 Three-year olds are very fond of fantasy and imagination. They are developing an ability to express creatively and making huge developments in sensitivity and understanding.

In this course, we work with you to develop your child's sensitivity, creativity and expressions through music. With a variety of musical experiences, your child will soon discover a world of joy in music.

Each lesson consists of a variety of subjects to maintain your child's attention throughout:
Let's Enjoy Singing
We nurture your child's sensitivity to music by having them sing enjoyable melodies in a warm atmosphere. With clear images and lyrics, the foundation for musical expression is developed.
Let's Have Fun by Listening
There's no better way to appreciate music than to listen and concentrate. We hone your little tyke's concentration and infuse imagination into music through a collection of pieces specially designed for this purpose.
Rhythm Step
A fun-filled activity, we let the little ones express their sense of rhythm and beat through dance or body movements. Not only does this activity build a strong sense of rhythm, but it also allows them to "relax and refresh"!
Let's Have Fun with the Keyboard
Your child will enjoy a variety of tones on the electone, perceive various expressions and nuances in the music while participating in this subject.
Music Appreciation
Through a combination of music, story and illustrations, the goal is to nurture the ability to listen attentively.
| | |
| --- | --- |
| AGE GROUP: | 3-Year-Olds (Accompanied by a Parent) |
| COURSE DURATION: | 1 Year or 6 Months (child of more than 3-Years-6-Months of Age) |
| NUMBER OF LESSONS: | 11 Lessons Per Term |
| LESSON FORMAT: | Group Lesson of up to 10 Children |
| LESSONS DURATION: | Lessons Duration: 45 Minutes |
| COURSE FEE & SCHEDULE: | Click Here (1 year course)Click Here (6 months course) |