When one thinks of loudspeakers, we would automatically picture big and/or bulky black boxes. When one thinks of background music in beautiful art installations, chic cafés, or stylish boutique shops, we usually picture small consumer speakers or typically unremarkable-sounding concealed commercial speakers. However, as the needs and expectations of consumers for quality of life (and sound) increases, the market finds itself in a peculiar place. We want great-sounding speakers, but at the same time, we don't want to see those big "ugly" boxes.
So, in April 2015, NEXO launched the first of a new series of loudspeakers designed to address this growing trend. This new ID series' small and sleek design targets the more aesthetic-centric venues while its unprecedented versatility in hanging and mounting accessories suits it to a wider range of both install and touring applications.
At that point, we only released the ID24 full-range speakers and the IDS110 & IDS210 sub-basses. With their twin 4-inch drivers and their single and double 10-inch drivers respectively, they were very well received. Their low-profile design allowed for easy and discrete installation in a wide array of locations like within walls, staircases, and even under furniture!
Then, not too long after, amidst COVID lockdowns in July 2020, NEXO launched the next set of cabinets in the line-up. Yes, even the pandemic did not stop the ladies and gents in Paris, France. This next set of speakers would contain the smallest loudspeaker they have ever made. The ID14 is a tiny 5-inch cubed Polyurethane loudspeaker that has a single 4-inch LF driver with a 1.3-inch voice coil, which is further complemented by a 1.4-inch HF diaphragm. It is flanked by the IDS108 sub-bass, a cabinet with a high-efficiency bass-reflex design and a single long excursion 8-inch Neodymium driver.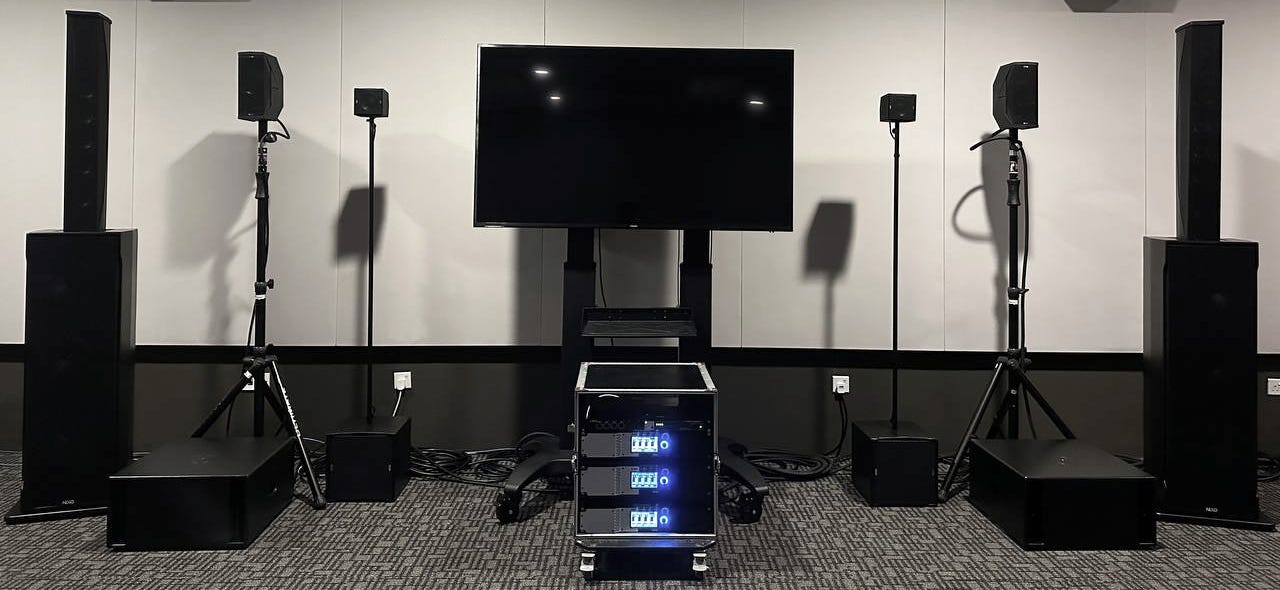 Finally, in June 2021, the long-awaited big brother of the series would be launched. The ID84 is NEXO's first column array speaker. Its one-metre slender French-fry-like form gave it the ability to be easily camouflaged within pillars or while flanking big screens. Its 4-inch long-excursion Neodymium LF and 1-inch HF drivers were specifically designed to produce meltingly smooth, easy-listening sound. Expanding on its adaptability to more applications, it can also be paired with the ID84L LF extension module and/or the IDS312 triple 12-inch driver sub-bass.
However, not till recently, we were only able to soft launch the ID family of speakers because of COVID restrictions and other complications. Well not anymore.
Yamaha Music (Asia) Private Limited - Yamaha Digital Audio Creative Centre (YDACC) was the venue of choice for its cosy ambience. But it also served as an announcement to the market that we were "back in business", officially reopening our doors to customers and partners alike. It is difficult to describe in words how great it was to catch up with our customers and clients in such an open setting.
After acquiring NEXO in 2008, Yamaha has not stopped working closely with them to break technological ceilings, adding its own expertise in DSP processing to develop not just louder speakers, but smarter solutions. In this "hard" product launch, we welcomed back our NEXO colleagues, Joe White and Leo Man Him Ho, to present the ID series' line-up.
The guestlist was divided into two sessions, one morning and the other afternoon, for a better listening experience and easier traffic control. Joe had the honour of presenting in the first session when we had more industry partners while Lawrence Tan, the Head of Professional Audio presented in the second session when we had more end users attend.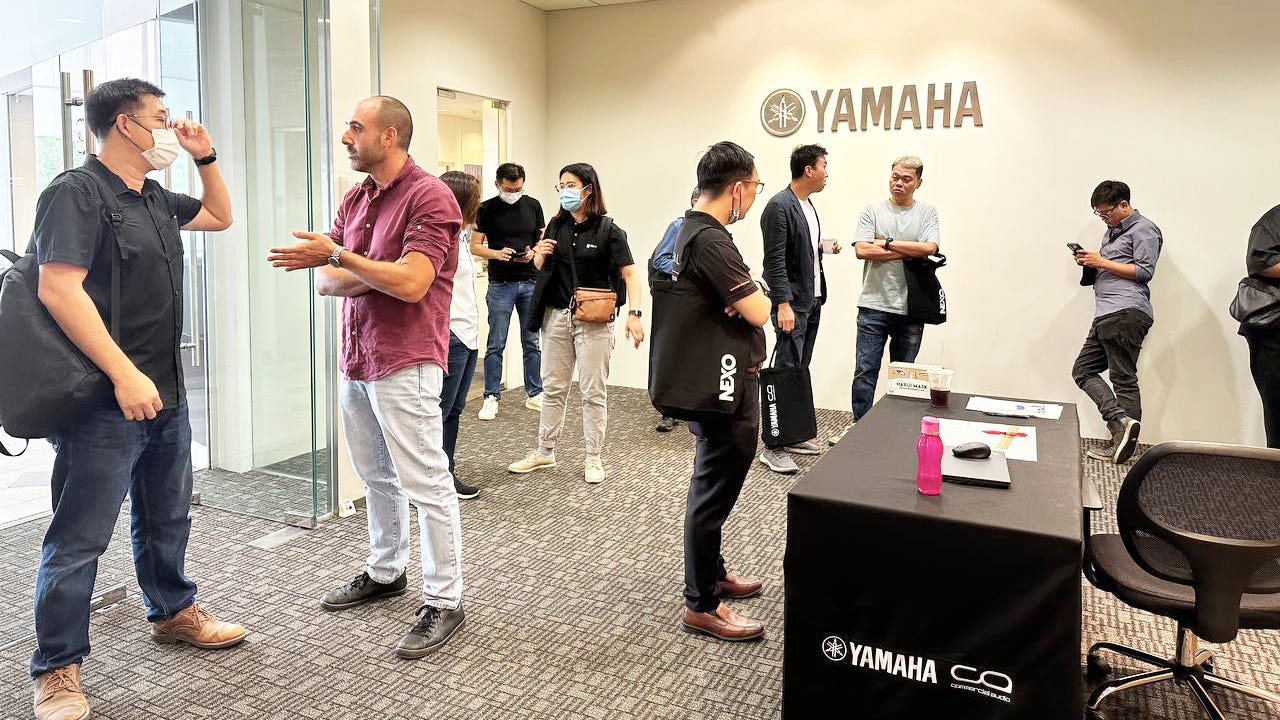 We started each session with a brief presentation of the entire ID series in YDACC. Attendees could see the actual speaker cabinets, but they could not hear them yet. This helped to both, build anticipation and manage expectations. After a short intermission, guests were invited back into the space for the demonstration proper.
First up, was of course the baby ID14 cabinets coupled with the IDS108. We started off with "Enya Medley" by Voice Lab. The first few seconds of the female chorale showcased the ID14's warm yet crystal vocal representation. Then from the 13th second, the rich and deep vocals from the male Bass section showcased the ID108 surprising reach in the Low-Frequency region. Next on the setlist, everyone's familiar "101 Eastbound" by fourplay was played. Immediately, from the gentle nods and subtle grins, I knew the guests could also feel the punch of the kick. With its peak SPL measured at least 116dB from 20Hz to 20kHz, it was dubbed the new "chili padi" for sounding bigger than its size.
Next, was the ID24 with IDS110. Being already launched and established in the market, we were not looking to relaunch it. Rather, our aim was to remind people how effective a speaker system they were. To this end, more widely familiar tracks were used; namely "I Will Remember" by Toto and "Come Together" a cover by the Michael Ruff Band. The timbre of the toms and the clear neatness of the instrument mix were evident.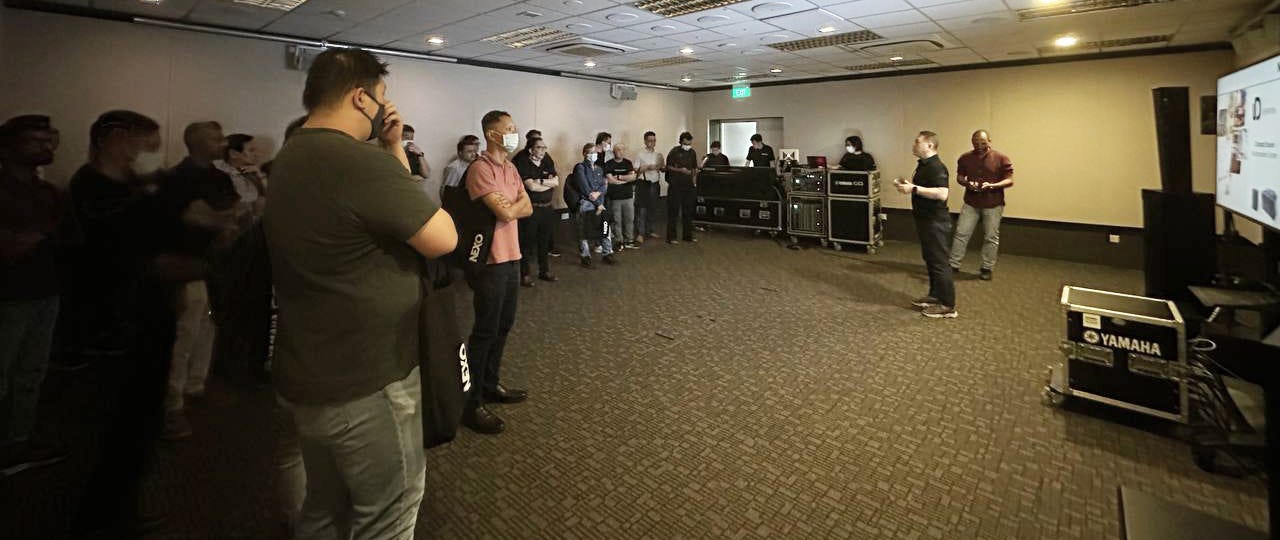 Saving the biggest for last, the full 90Hz-20kHz range of the ID84 columns was revealed with everyone's favourite "Angel" by Sarah McLachlan. The crossover was then raised to 120Hz and the IDS312 sub-bass was added to play "Destiny" by Ong Seong Eun. This track was used because it starts slow but full ranged, with a single piano. Then after about 30 seconds of slow build, the track opens wide up with lower notes, backed up by a string ensemble. We then planned to up the epic-ness with a track legendary in the gaming industry. "Halo" by Martin O'Donnell & Michael Salvatori, is famous for its debut in the acclaimed game series of the same name. Although given the limited space of the room, the ID84-IDS312 speaker system proved to be not only big, but its "hi-fi" sound driven by performance-based design and technology also wowed the crowd with its smooth pleasantness.
Listening to the chatter during the post-event networking, it is only a matter of time before the new ID Series cabinets make their first appearances in the market. And with the success of the first of our post-COVID events, the market can look forward to the next one soon to come.